Gloucester's 'ugly' buildings covered up for World Cup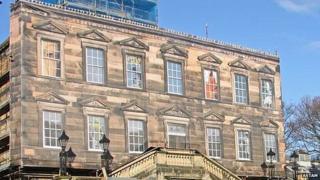 Gloucester's "ugly" buildings are to be hidden under canvas or thin sheets of cladding.
A £150,000 plan to cover up the city's "visually uninteresting" buildings ahead of the 2015 Rugby World Cup, was approved by councillors on Wednesday.
Buildings, dating from the 1960s and 1970s, will either be clad in textured, coloured panels or "wrapped" in canvas.
Council leader Paul James, said it was "relatively cheap" but gave the council "flexibility to change it over time".
Six sites, including Kings Walk shopping centre and the bridge over East Gate Street, have been identified by the council as being "ugly structures".
With funding from the City Centre Investment Fund, they will be covered in 8mm (0.3 inch) thick sheets of cladding, while Longsmith Street car park will be hidden behind a "green wall" of climbing creepers.
The facade of Eastgate Shopping Centre, will be concealed behind a canvas printed with a "recreation of the 19th century hotel which used to occupy the site".
Mr James said: "It will probably only last a number of years but it gives us flexibility to change it over a period of time, rather then being stuck with a design for a long time."
Four world cup matches will be played at Gloucester's Kingsholm stadium.