Venue plan for Cirencester's Roman amphitheatre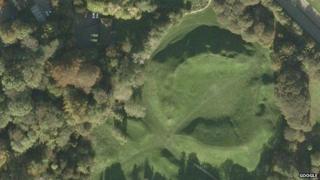 Cirencester's Roman amphitheatre could become a regular venue for concerts and plays.
A consultation into a 10 year "masterplan" to improve the historic attraction has been launched by the town council.
The scheme would also include a new visitor centre, improved access and pathways, and a car park.
The council wants to attract more visitors to the site, which is owned by English Heritage.
Andrea Pellegram, from The Friends of the Amphitheatre group, said: "In the long term we want to bring the amphitheatre back into use as an event site, but before we do that we have to put in a lot of improvements.
"We want to improve it as a place for people to come and enjoy. It's a site of national importance."
'National destination'
Ms Pellegram said the site has been used occasionally for public events in recent years, but current access is limited.
A council spokesman said the plan presented "a significant opportunity to create and sustain a living legacy that will reconnect the amphitheatre with the local community and make it a regional and national destination."
Roman Cirencester, known at the time as Corinium Dobunnorum, was the second largest town in Roman Britain.
Its amphitheatre was built in the early 2nd Century and had a capacity of about 8,000 spectators.
The earthworks, which still exist near to the centre of the town, are classified as a scheduled ancient monument.
People are able to comment on the plans, which can be viewed on the authority's website until 15 July.