Rare coin die lent to Royal Mint by Gloucester City Museum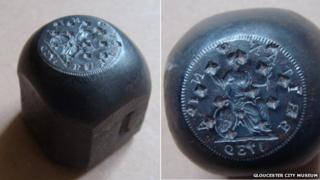 A rare coin die has been lent by Gloucester's City Museum to the Royal Mint Museum in south Wales for scientific research.
The metal punch turns blank discs into coins and was one of nine found hidden in a solicitors office in Brunswick Road, Gloucester in the 1930s.
The museum is one of the few places outside the Royal Mint to possess any.
The Royal Mint is studying the processes and materials used in coin making in the 18th and 19th Centuries.
A museum spokesman said it was not known how the dies came to be hidden in the solicitors office because "to avoid forgery they are not supposed to exist outside of the Royal Mint itself".
The metal punches date from the reign of George II and would have been used to make pennies, halfpennies and farthings.
They were donated to the museum after they were discovered.