Gloucestershire planners '7,000 homes over estimate', claim campaigners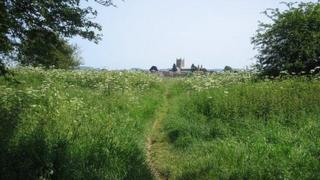 Councils will continue with plans to build 30,000 homes in Gloucestershire, despite a predicted fall in population.
The forecast for Tewkesbury, Cheltenham and Gloucester by the Office for National Statistics (ONS) - the basis of the strategy - has dropped 11%.
Helen Wells, from Save the Countryside, said the new figures show the councils' plan was "7,000 houses over estimate".
Tewkesbury council's Mike Dawson, said it was a "fairly insignificant fall" and they would "continue as planned".
Plans to build 30,000 homes in the county by 2013 were voted through by Cheltenham and Tewkesbury borough councils and Gloucester City Council in April.
Despite a drop in the ONS population projections, the councils' Joint Core Strategy (JCS) is still due to be submitted to the government later this year.
"The overall number of homes that's required has only actually dropped by 5% across the area," said Mr Dawson, chief executive of Tewkesbury Borough Council.
'Agreed to recalculate'
"We're advised by our statistical advisers that that is a fairly insignificant fall across the JCS area and given the fact that these are projections, we'd be well advised to continue as we've got plans for."
But Ms Wells, who is campaigning to save the area's greenbelt land, said the authorities had "agreed they would look at the latest ONS projections and recalculate as feasible".
"It just doesn't make sense," she said.
"They are still around 6,000 to 7,000 houses over estimate and that means we don't really need to build on the greenbelt - which is great news."