Cheltenham's street sign pigeons auctioned off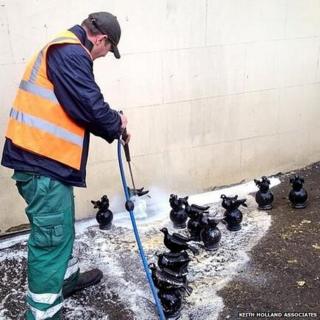 Pigeons which have sat on top of street signs in Cheltenham for 20 years have been auctioned off for charity.
The 11 cast-iron birds, removed from the town's pedestrian signposts to make way for new signage, were sold for up to £450 each.
Former Cheltenham mayor Wendy Flynn said people had been able to "buy a piece of Cheltenham's history" rather than the birds being melted down.
The Royal Pigeon Racing Association said the loss of the birds was a shame.
The two-week auction raised £1,895 for the former mayor's three charities.
The town's old black and gold signs were too high, too difficult to read and "insufficiently clear in terms of direction", said the council.
In their place, the authority is installing new "clearer" signs with simple maps and graphics to help those unfamiliar with the town.
The redundant pigeons, with a starting price of £20 per pigeon, were put up for auction on 2 June.
"It's an amazing amount of money that has been raised," said Jennie Ingram, assistant the mayor.
"It is also great to see that the pigeons that have directed the Cheltenham residents and tourists for over 20 years will now be re-homed."
But Stewart Wardrop, from the Cheltenham-based Royal Pigeon Racing Association, said it was pigeons pecking at the salts that had drawn the Romans' attention to the area's mineral waters.
"The humble pigeon is why Cheltenham is here," he said.
"They're part of the heritage of the town and I think it's a shame they've been removed."