Gloucestershire council spends extra £260k to provide free school meals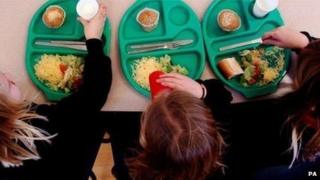 Providing free school meals to primary schoolchildren in Gloucestershire has cost the council an extra £260,000.
It was awarded £1.2m by central government but said it had to spend the additional money on building work to improve the kitchens in four schools.
It follows the introduction of a government policy to provide free meals for pupils under seven in England. The changes need to be made by September.
The county council said each school had been "assessed on an individual basis".
'Knives and forks'
A Department for Education spokesman said: "We have allocated more than £1.2 million to Gloucestershire specifically to improve kitchen and dining facilities."
Councillor Paul McLain, from Gloucestershire County Council, said: "Essential equipment, from new tables, chairs and cookers to knives and forks were supplied where required, using funding received from the Department of Education.
"The additional £260,000 from the county council's schools capital programme has been allocated specifically for the four schools who will need more substantial investment in building work to expand their kitchen facilities."
The four schools which are having their kitchen facilities improved are Longlevens Primary School in Gloucester, St Mary's in Tetbury, Tewkesbury Primary and Woodside Primary in the Forest of Dean.