Gloucestershire woman jailed for neglecting two horses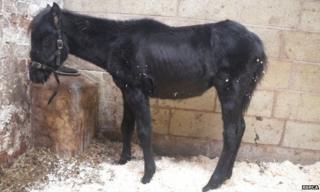 A woman has been jailed for 16 weeks and banned from keeping horses for life for neglecting two of the animals.
Lisa Fletcher, 47, of Winchcombe, Gloucestershire, admitted causing suffering to a foal and a young horse, at Cheltenham Magistrates' Court.
She also admitted breaching a previous court order, which banned her from keeping horses for five years.
The foal has since been re-homed by Olympic dressage gold medallist Charlotte Dujardin.
The RSPCA said when the foal was found last December it was very thin, riddled with worms and had a severe lung infection.
Severe offence
Ms Fletcher, who was banned from keeping horses for five years last October after pleading guilty to neglecting a stallion, was also ordered to pay £2,000 costs.
RSPCA inspector Suzi Smith said the sentence reflected the severity of the offences.
"I don't think the foal would have survived the week if he hadn't got the veterinary care he needed," she said.
"Luckily he pulled through and has gone from rags to riches as he's been adopted by Charlotte Dujardin who has named him Santa.
"The other horse, a yearling called Frank, was also thin but has recovered well and we hope to find him a fantastic home in the future."