WWT Slimbridge wild crane chicks disappear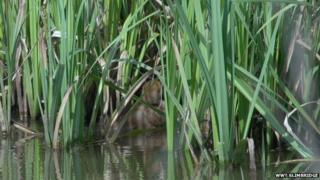 Two wild crane chicks are missing and presumed to be dead - dashing the hopes of experts who thought they could be the first to survive in western England in 400 years.
Conservationists at WWT Slimbridge in Gloucestershire working to re-establish a population of cranes in the region said they were "gutted".
Both of the chicks disappeared at separate times.
WWT said it was likely they were killed by a predator.
Nigel Jarrett, head of conservation breeding at the WWT, said they had had "high hopes" for the chicks
Cranes were commonplace in parts of the West in the 1600s and experts are now working to reintroduce them.
For four years The Great Crane Project has hand-reared chicks and released them 60 miles (97km) away on the Somerset Moors and Levels.
Two parent birds raised through the project, Chris and Monty, returned to the Slimbridge reserve and have now hatched a total of three chicks but none has survived.
Their first chick hatched last year and was abandoned after a few days due to bad weather. Chicks two and three hatched in May, with the first disappearing a few weeks later and the second disappearing last week.
Mr Jarrett said: "The risks to parent birds and their young are substantial; we do not know exactly what has caused this last crane chick to disappear but judging by the parents' behaviour that was witnessed, it was likely to be a predator.
"We could see the parents were feeding the chick throughout the day and brooding it at night. The chick was growing before our eyes."
Another nesting pair at Slimbridge and, further afield, two attempts in Somerset have also been unsuccessful.