Flood rescue hovercraft 'never used in an emergency'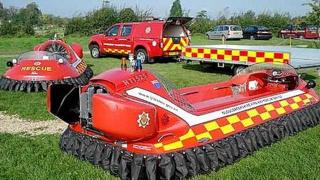 Two rescue hovercraft, bought after parts of Gloucestershire flooded in 2007, have never been used in an emergency, the BBC has learned.
The two vehicles, which cost £110,000, were paid for with cash from Severn Trent's Community Recovery fund.
Gloucestershire Fire and Rescue Service said it was looking at whether local voluntary rescue groups could run them to get the best use out of them.
A spokesman said they would still be available for emergencies when needed.
Chief Fire Officer Stewart Edgar said: "We're talking to local voluntary rescue groups about whether they could help us make more use of the hovercraft than we do at present.
"They've not been deployed since they were given to us, so we're looking to see if we can find a way to put them to better use.
"We're only talking to local groups, and any arrangement would allow for them to be deployed in Gloucestershire if there was an emergency here that needed them.
"We're still only looking at ideas at the minute."
A spokesman said the two craft had never been deployed in an operational emergency, and had only ever been used for training or at the request of the media.
The specialist vehicles are based at Dursley and Newent and were loaned to Cumbria in 2009 when major floods hit the region.