Gloucester Cathedral vision given £320,000 lottery push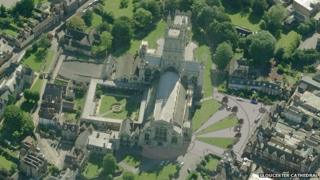 A 10-year plan to increase the congregation at Gloucester Cathedral and improve its facilities has been given a financial boost.
The Heritage Lottery Fund (HLF) has awarded £320,000 to progress a £5m vision for the future outlined last year by the dean and chapter.
A new public square outside the cathedral and a revamped entrance and welcome area are two of the proposals.
The cathedral has to raise £1.5m itself to unlock another £4m of lottery cash.
"Project Pilgrim will enhance the impact of a visit to Gloucester Cathedral so that people will be able to connect with its heritage like never before," said The Very Reverend Stephen Lake, Dean of Gloucester.
"By building upon the love and pride in this magnificent building, we hope that people will be changed, the city will be encouraged and visitors will want to return again and again."
A further grant of £70,000 from the Friends of Gloucester Cathedral has been added to the lottery money which will be put towards phase one of the project, to further explore the cathedral's heritage and those involved in its history.
Nerys Watts, head of HLF South West, said: "Gloucester Cathedral has truly stood the test of time, having been continuously in use since the 11th Century.
"We were impressed with these ambitious plans, phased over a decade, to conserve the site and make it a much more open and welcoming place."