Gloucester diocese to help struggling credit unions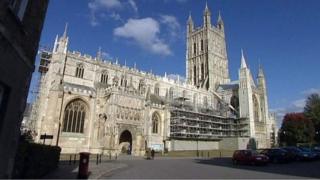 The Diocese of Gloucester has stepped in to help support the two remaining credit unions in Gloucestershire.
The diocese has given struggling Gloucestershire Credit Union £4,000 and is helping another to "grow capacity".
It follows the launch of the Church of England scheme to promote the use of credit unions over payday lenders.
Diocesan Secretary, Ben Preece-Smith, said: "We are in discussions about how we might support with a more substantial amount of money."
Gloucestershire churches voted unanimously in favour of "practically" supporting the county's credit unions in February, according to Mr Preece-Smith.
'Risk of closure'
It follows the Archbishop of Canterbury's criticism of payday lenders in July last year.
"Stroud Valleys Credit Union is a robust union and we hope our help there will be about growing capacity by using potentially churches and church people to reach new people," he said.
"But Gloucestershire Credit Union - there was a risk they would shut down this month.
"So that's about making funding available to keep their balance sheets secure and contacting our network of volunteers."
Judith Layton, from Gloucestershire Credit Union, said the "cash injection" would see the organisation over a "patch that hasn't been so good".
"But we're struggling because of a lack of volunteers, and the church has a wealth of volunteers so the diocese is trying to find people for us."
Marcus Isles, from Stroud Valley's Credit Union, said working with the church would allow them to "promote each other" to raise awareness.