Cheltenham GE Aviation Systems 'jobs uncertainty over'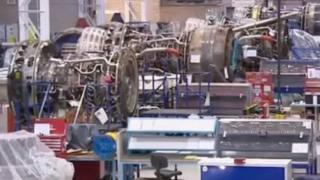 It is hoped some 70 jobs will stay in Gloucestershire after a £42m takeover of GE Aviation Systems was agreed.
Aircraft manufacturer The Triumph Group says it has agreed to buy the business, which employs staff in Cheltenham, the Isle of Man and Washington, US.
A period of uncertainty over the future of the landing gear business is now over, according to the union Unite.
The division is part of US-owned firm GE Aviation which makes instruments for military and civilian aircraft.
'Question mark'
"This is good news for the workforce in Cheltenham and the Isle of Man as the Triumph Group wishes to expand its operations in the UK," said Unite regional officer Christine Starling.
"There has been a question mark hanging over the future of the landing gear business as GE Aviation has been seeking to offload the business for the last two years. This period of uncertainly is now over."
She said she understood that the Pennsylvania-based Triumph Group was looking for a site in the Cheltenham area to relocate the business to.
The $70m deal remains subject to approvals but is expected to be completed in the next few months.
Earlier reports from Unite suggested up to 200 employees would be affected but that number has now been revised by GE Aviation.