Prince Charles attends concert after controversial comments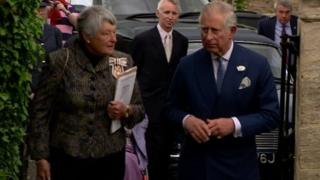 Prince Charles has attended a concert in Gloucestershire, his first public engagement since he was linked to controversial comments about Russia.
The classical music event took place at the Church of St Peter and St Paul in Northleach at 19:30 BST on Saturday.
The prince is the patron of Music in Country Churches which helps churches raise money for the maintenance.
He said he hoped that his visit would highlight the cultural role played by rural churches.
Speaking prior to the visit, Bishop David Jennings said people were "thrilled" about the prince's attendance.
"We're absolutely delighted that the patron of Music in Country Churches is coming to Northleach," the interim minister of the Northleach Benefice added.
"It's a splendid programme and I think that he will enjoy it very much indeed."
Mr Jennings said the Prince of Wales last visited six years ago.
On Wednesday, a former Polish war refugee who met Prince Charles in Canada said he had likened some Nazi actions in Europe to those of Russia's Vladimir Putin.
At the time Clarence House said it would not comment on a private conversation.
In response, the Russian embassy said the comments attributed to the prince were "outrageous".