Restored steam train back in service for first time in 50 years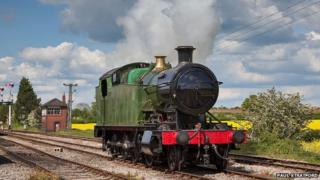 A restored steam engine, which originally pulled coal wagons in 1919, has moved under its own power for the first time in more than 50 years.
Engine 4270 was sold for scrap by British Railways in 1962 after more than 40 years of pulling coal trains in South Wales.
Volunteers and contractors at the Gloucestershire Warwickshire Steam Railway spent 11 years restoring it.
It will now form part of the heritage railway's fleet of locomotives.
Gloucestershire Warwickshire Steam Railway spokesman Ian Crowder said: "It was completely dismantled and rebuilt, and a lot of new parts had to be manufactured for it.
"It's as good as it was when it was turned out from Swindon Works in 1919, if not better."
The restoration of the 83-tonne engine has cost at least £250,000, and there are only about six of the class of engine still in existence, Mr Crowder added.
It will pull its first paying passengers at the Cotswold Festival of Steam at the end of the month.