Gloucester transport hub to replace old bus station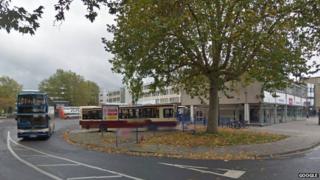 A new £3m transport hub is to replace the old bus station in Gloucester as part of a wider revamp of the area.
New shops and restaurants, as well as a modernisation of King's Square, are being planned in a bid to breathe new life into a this part of the city.
The £60m project is being managed by Stanhope PLC after agreeing a deal with Gloucester City Council in 2012.
Local enterprise partnership GFirst has awarded the developer a conditional offer of £3m to build the new hub.
The money will come from the Gloucestershire Infrastructure Investment Fund.
Ancient city search
Dr Diane Savory OBE, GFirst's chairwoman, said the project would "help boost communities and businesses across Gloucestershire".
Next week parts of King's Square and the area around the bus station are due to be dug up by archaeologists to find and record evidence of the city's past.
Experts will spend eight weeks in 12ft (3.6m) deep trenches hoping to reveal parts of the original Roman city Glevum and potentially a Cistercian Friary.
Andrew Armstrong, the city archaeologist, explained: "Before any major new developments take place it is a requirement that the site is researched.
"[It's] so we know exactly what archaeology is there and can record it and take steps to ensure that remains are preserved beneath the new buildings."