A417 loop road petition signed by almost 5,000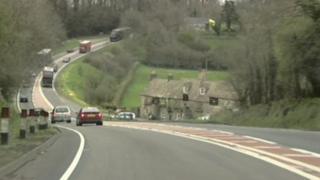 A petition calling for a loop road around a notorious accident black spot in Gloucestershire has been handed in to Downing Street.
More than 5,000 people are backing the campaign to upgrade the A417 at Birdlip near Gloucester where three people died on one day last November.
The three-mile (5km) stretch of road, which connects the M4 to the M5, is used by 34,000 vehicles daily.
More than 340 people have been killed or injured on the road since 1998.
The campaign is being led by Cotswolds MP Geoffrey Clifton-Brown who said he had "no doubts" more people would sign the petition.
He said: "It's not only to make it safer but to improve the traffic flow, so that more businesses will want to locate to Gloucestershire and grow in size so that they can employ more people."
He said the "really important goal" was to get the "loop scheme improvement" into the Highways Agency's 2015 list of road scheme priorities.