M5 Gloucester motorway service station opens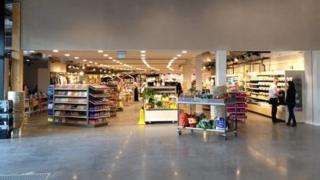 A new services on the M5 northbound, that fought off a year of legal challenges from protesters, has opened for business.
Gloucester Services at Brookthorpe, between junctions 11a and 12, was approved by planners in 2010 but the decision was challenged in the courts.
The operator Westmorland said it is working with 130 suppliers from within 30 miles of the services.
Opponents of the services included rival firms and Natural England.
'Promises made'
Roadchef and Welcome Break, which operate the nearest service stations on the M5, registered opposition, while Natural England raised concerns about potential damage to the Cotswold Area of Outstanding Natural Beauty.
Eric Hibbert, the former chairman of Brookthorpe-with-Whaddon Parish Council, said he hoped Westmorland would be held to account in keeping their promises.
"The promises made, regarding employment, buying of local produce and supporting local charities, were the vehicle for obtaining planning consent," he said.
"I just hope everyone ensures they do and achieve what they said they would do and achieve."
Building work has begun on the adjoining southbound services which is expected to open in May next year, with the combined cost expected to be £40m and the business eventually employing 300 people.
Sarah Dunning, Westmorland's chief executive, said: "We believe proper food matters. So we serve it where you'd least expect it, on the motorway."