Cheltenham gas blast family to move back home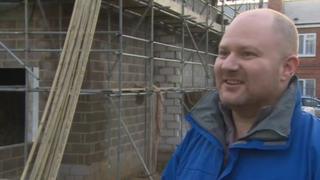 A family whose Cheltenham house was destroyed in a gas explosion two years ago will be able to move back into their rebuilt home later this month.
Richard Drinkwater said the keys to the new property would be handed over on 16 May and they would move in soon after.
The original house in Rosehill Street, Cheltenham, was demolished after a suspected gas explosion.
Their home, and two others which are also being rebuilt, were destroyed in the blast on 10 May 2012.
Mr Drinkwater said he and his wife and daughter were looking forward to getting back in.
"The last two years have gone very, very quickly, and now the house is nearly ready time seems to be dragging," he said.
Mr Drinkwater said the layout of the inside of the new house would be "completely different" to the old house.
"It would have been so hard to have moved back if it was exactly the same.
"[We would have been] sat in the same position where we were when the explosion happened.
"It was a conscious decision from the outset to make it different."
Mr Drinkwater said a street party was being planned for later in the summer for the whole street to celebrate getting back to normal.
The family has lived in rented accommodation nearby for the past two years.