St Philip and St James church in leak fix appeal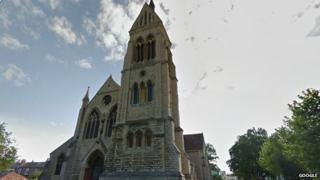 A Cheltenham church has started an appeal to raise £160,000 for repairs following the winter storms.
St Phillip and St James in Leckhampton is 130 years old and grade-II listed but is no longer wind and watertight.
Rev Nick Davies, said: "I have done a number of quieter services listening to the drip of water in the buckets, which focuses my mind as vicar."
The aim is to fix the roof and replace guttering and the wire guarding around the windows.
The appeal will involve mail shots to the parish council area and applying to trusts and charities for grants.