Live camera watches Slimbridge cranes' eggs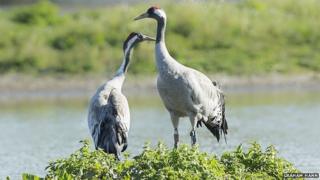 An attempt by a pair of cranes to raise the first wild-hatched crane in western Britain in 400 years is being filmed on a webcam.
The webcam has been installed by the Wildfowl and Wetlands Trust at its Slimbridge reserve in Gloucestershire.
The 4ft (1.2m) tall cranes, Monty and Chris, first tried to nest at the centre last year but their chick died.
The one or two eggs are due to hatch mid-May and can be watched by internet users via the trust's website.
The cranes are part of a reintroduction programme to re-establish the once-common birds in the UK.
Under round-the-clock observation, the pair have nested in front of one of the centre's hides.
'Better conditions'
"They paired up last summer as a young pair and even produced an egg, but they were hit by bad weather and sadly the chick didn't survive," said Nigel Jarrett, the centre's head of conservation breeding.
"We're really rooting for Monty and Chris and crossing our fingers for better conditions for them this year."
According to the trust, there is no record of the last crane to hatch in the UK but it is a "widely accepted assumption" that cranes were lost as a breeding bird from the UK in the 16th Century.
The Great Crane Project, a partnership between the trust, the Royal Society for the Protection of Birds (RSPB) and Pensthorpe Conservation Trust, said it hoped to rear and release 100 birds on the Somerset Moors and Levels by 2015.
The conservation trust said it believed no cranes had so far hatched in western Britain in 400 years.
The Norfolk-based Pensthorpe Conservation Trust has been working with Eurasian cranes for more than a decade and has a small population of wild cranes in its 500-acre reserve in the Wensum Valley.