Gloucester to Tewkesbury flood protection improvements called for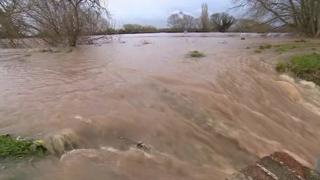 People living in areas affected by flooding in Gloucestershire are to petition the environment minister for better flood prevention measures.
Riverside communities between Gloucester and Tewkesbury are regularly hit by severe flooding.
Parish council representatives have met to discuss the possibility of creating flood bypass channels, more dredging and better tree maintenance.
Campaigners say it would "virtually eliminate" flood risk in the area.
The resolution calls for work to be carried out between Sandhurst and Minsterworth to enhance flood flow through a constriction in the flood plain.
They say this has been caused by "decades of neglect of river management, greatly increased structural impediment in the flood plain at Gloucester, and the implications of climate change".
Campaigner and local farmer Jeremy Chamberlayne said an effective scheme could lower flood levels between Worcester and Gloucester by 1.5 m (5 ft), and "virtually eliminate flood risk to houses and major roads".
Representatives of all the parishes on the River Severn between Gloucester and Tewkesbury, as well as representatives of the business and farming communities, met in Maisemore earlier to finalise the resolution.
It will now be handed to Tewkesbury's Conservative MP Laurence Robertson to give to Environment Minister Owen Patterson.