St Ann's Way jogger sexually assaulted by gang of men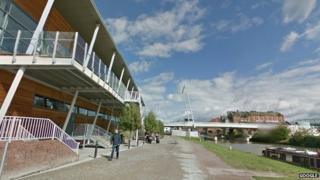 A woman has been pulled to the ground by her hair and sexually assaulted by a group of four men as she jogged along a canal tow path, police said.
The 28-year-old was on the path at St Ann's Way, Gloucester on Saturday at 20:25 BST when the men approached her.
One made a comment to her and she replied. She was then grabbed by two of the others and pulled to the ground before being assaulted.
All four men ran away when the woman began screaming.
The woman described one of her attackers as white, 6ft 3in tall and about 18-years-old, skinny with messy brown hair.
He was wearing a red football shirt, black knee-length shorts and black trainers.
A second attacker was described as white, about 17-years-old and 5ft 5in tall.
He had messy brown or blonde hair, and was wearing a Nike top, dark in colour with white writing, dark knee-length shorts and white trainers.