Cheese-rolling returns with real wheel of Gloucester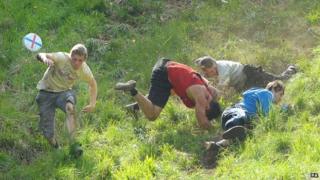 Unofficial cheese-rolling races are to return with hardy chasers pursuing a real wheel of cheese.
Last year revellers had to chase a foam copy of the 7lb (3kg) double Gloucester down the 1:2 gradient Cooper's Hill.
The foam faux fromage was introduced after police told cheese maker Diana Smart, 87, she could be liable for legal claims if people were injured.
Ms Smart, said: "It was a bit nasty but this year I haven't heard from the police and I've made a cheese to roll."
Police 'cheese neutral'
The tradition, which dates back to at least the 19th Century, sees thrill-seekers hurling themselves down the hill near Brockworth in Gloucestershire.
But the official event was axed after more than 15,000 people turned up in 2009, sparking safety fears over numbers at the site.
Since then the daredevil dairy spectacular has been held unofficially, organised by local enthusiasts.
Last year an estimated 3,000 people turned out to watch the extreme escapade despite Gloucestershire Police warning organisers, including Ms Smart, they risked legal action.
This year, a spokesman for the force said it was "not speaking to potential organisers" but was not "relaxing" its stance on the unofficial event.
"We don't have a stance on cheese-rolling - that was the decision that was made this year," he said.
"It's not a public event but we still have public order responsibilities and nothing will change in that regard from last year."
Ms Smart said with "so much support from so many people" following last year's "cheese ban", she would be supplying an authentic Gloucester this year.
"Somebody has bought a cheese to roll but they haven't picked it up yet," she said.
"It's just an ordinary double Gloucester but they wrap it well so it holds together and anyway it's a tough old cheese."