Cotswolds emergency ambulance service 'not fit for purpose'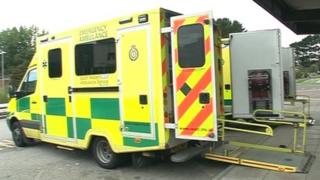 An emergency ambulance service for the Cotswolds is "not fit for purpose", according to the local council leader.
Fewer than half of 999 response vehicles called out in the Cotswolds reach their destination within a set eight-minute target, figures show.
Councillor Lynden Stowe, leader of Cotswold District Council, said the current system was not working.
However the South Western Ambulance Service Trust said it was not a new issue but they were addressing it.
"There is an understanding in the rural areas that it will take that little bit longer to reach some emergency calls," said Neil Le Chevelier, director of service delivery.
"We recognise that there are communities like the Cotswolds that need a better service."
'Fight for services'
In Gloucestershire's part of the Cotswolds, the ambulance service is only achieving the eight-minute target 45% of the time.
Elsewhere in the county the figure is higher, particularly in urban parts such as Gloucester (87%) and Cheltenham (88%).
Conservative councillor Mr Stowe said: "The people of the Cotswolds pay their fair share of taxes. On some public services we do expect lower levels of services, but when it comes to the blue light response services we have to fight for the same level of services as everyone else.
"It just seems there are structural issues in the ambulance service and particularly these are highlighted in the Cotswolds."
He believes three more ambulances and crews are needed, with one introduced in Northleach and extra ambulances added at Moreton-in-Marsh and Cirencester where one ambulance already operates in each town.
But the ambulance service said there were other ways it wanted to meet its target, including spending £500,000 on defibrillators in the Cotswolds and training people to use them.
Mr Le Chevelier also said new ambulances were being added in Stroud and the Staverton area between Gloucester and Cheltenham.