Gloucestershire rough sleepers helped to get off streets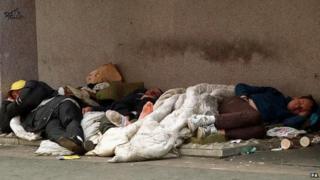 Numbers of homeless people being discharged back on to the streets after hospital treatment is being reduced with a new scheme in Gloucestershire.
Rough sleepers are now referred to charity GEAR for housing help and mental health and addiction support.
Gloucestershire Royal consultant, Pippa Medcalf said: "I know that we have neglected to look after them as people and show them compassion in the past."
In the first three months of the pilot, 42 out of 44 people have been housed.
The remaining two chose not take up the help offered to them.
Living in a cave
The project, led by Ms Medcalf, started with a survey of 12 homeless people.
"One said he went to live in a cave in the Forest of Dean, one had to sleep in a friend's car - these were people at their sickest," she said.
Cara, 26, who needed hospital treatment after being attacked, said: "My relationship with my family completely broke down, but now they're like my best friends now.
"They ring me every day now, whereas before we didn't even speak for weeks and weeks at time and they used to dread the phone ringing at night, now they haven't got that worry."
The scheme began on 1 November at Gloucestershire Royal and Cheltenham General and the hope is to make it permanent.
About 180 homeless people are treated by the two hospitals every year.