Former mayor of Cheltenham rape comment criticised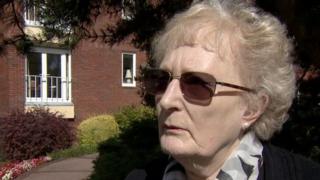 A former mayor of Cheltenham has apologised for equating the "inevitability" of the building of new houses with rape.
At a borough council meeting councillor Barbara Driver said: "When rape is inevitable, lie back and enjoy it".
It was said during a debate on Wednesday on plans to build 30,000 homes in Tewkesbury, Cheltenham and Gloucester.
The Conservative councillor has since apologised for making the remark.
In an open letter to the council Ms Driver said the comment was "completely inappropriate and thoughtless and should not have been said".
"As an elected member of the council I believe that on this occasion I have fallen short of the high standards expected of a councillor and for that I am deeply sorry and I wish to place my apology on record through this letter," she added.
'Taken seriously'
Karen Clarke, from the Gloucestershire Rape and Sexual Abuse Centre (GRASAC), criticised the remarks.
She said: "Making these comments, that have nothing to do with what she was talking about, is quite shocking.
"Rape has a devastating impact and there's no possibility that anyone could ever lie back and enjoy it.
"When people in positions of power make throw away and flippant comments like this it perpetuates the myths around rape.
"Someone in a position of authority should know better. Apologies are not enough."
A Cheltenham Borough Council spokeswoman said the council has "taken the matter seriously, as has Councillor Driver, and a full and sincerely apology has been issued to the mayor and copied to all councillors".