Gloucester park attempted rapist in psychiatric unit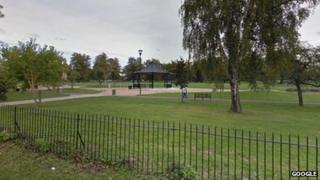 A youth of 17 who struck a woman on the head with a bottle and held scissors to her throat in an attempt to rape her, has been sent to a psychiatric unit.
The attack in Gloucester Park last June happened as the 19-year-old victim was walking through the park at 22:45 BST.
Prosecutor Fiona Elder told Gloucester Crown Court: "He subjected her to a violent and sustained attack."
The teenager, then 16, who was on a tagged curfew at the time, admitted two charges of attempted rape.
Warning signs
He also admitted causing actual bodily harm.
During the hearing Ms Elder added: "She was first aware of his presence when she was struck to the back of her head with a hard object."
She added the attacker pulled at her clothing and then threw her over the fence to a more secluded part of the park.
During the attack, she managed to call her friend on her mobile while trying to escape him.
An eyewitness called police after trying to alert passing motorists and shouting "rape".
During the case it emerged the boy was under curfew between 18:00 and 07:00 and should have been at home.
Ray Tully, defending, said his family were so worried about his behaviour they had called the police 45 minutes before the attack.
Mr Tully said: "His family feel nothing but sadness and empathy for the woman and the circumstances that have led to these events.
"But they also feel extremely let down by those who shared responsibility for dealing with the defendant over recent years."
Warning signs had developed in the early part of last year and he had already been in court "numerous times", he said.
"They were hoping for more serious intervention from the criminal justice system and expressed fears that one day he will do something really serious," said Mr Tully.
Judge William Hart told the defendant: "This was offending of the utmost gravity."