Cheltenham housing estate grass verges sell for £13,000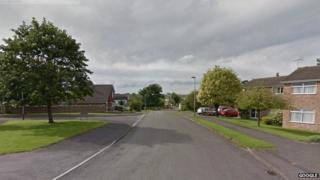 Twelve "irregular shaped" grass verges on a housing estate in Cheltenham have been sold at auction for £13,000.
The dozen "freehold sites" on the Merestones estate, with a total area of 1.5 acres, were sold by Allsop auctioneers in London on Thursday.
The verges, which had been managed by the council and advertised with "possible potential for development", sold for £3,000 above the guide price.
Owner Bilton Land Ltd said the sell-off was a result of a review of its assets.
The strips of land, sold as "vacant possession", are spread across the estate from north of Shurdlington Road, to the south of The Park and to the east of Hatherley Brook.
Despite being described by residents as "little pieces" of land only suitable to "build a dog kennel" on, the auctioneers said the lot had attracted a "fair amount of interest" and been sold to an unnamed bidder.
Cheltenham councillor Rob Garnham said he was been "reassured" by the price.
"If it had gone for a lot more then I would have been worried," he said.
He said he could not see "any of those strips of land coming up for planning" and that the only use he could predict was to add "an extra foot or so" to existing properties.