A4019 closure between Cheltenham and Tewkesbury scrapped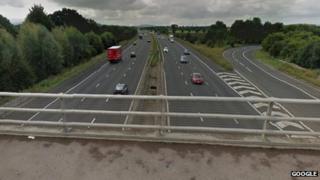 A plan to shut a commuter route in Gloucestershire for up to a year has been scrapped by the Highways Agency.
Instead it now believes it can repair Piffs Elm Bridge over the M5 without having to close the A4019 between Cheltenham and Tewkesbury.
A fire chief, MP and three councils fought the original plan in 2011 over the closure's potential impact locally.
The agency, which said the 40-year-old bridge needed "urgent repairs", will begin work in June for 57 weeks.
According to the agency, four bridges between junctions 10 and 12 of the M5 have been attached by thaumasite, a severe form of sulphate attack that can "reduce affected concrete to a soft crumbly material".
Dave Sledge, from the agency, said: "We recognise that the A4019 is an important route for local road users and that is why innovative new working techniques have been developed that will allow repair work to be carried out without closing the A4019 for any length of time.
"The majority of works will be undertaken during the day with traffic management installed on the M5 and we will be releasing more details in the near future."