Gloucester woman 'blamed by web trolls' for daughter's death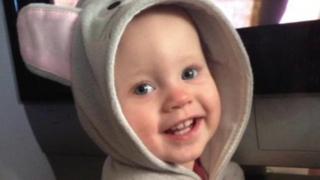 A mother whose daughter died in an accident with a window blind cord has been driven to despair by what she says are internet trolls.
Amanda O'Halloran, 22, said she had been blamed for toddler Sophia Parslow's death, last June.
Sophia died after her head got caught in a cord at home in Gloucester.
Miss O'Halloran launched the Sophia's Cause campaign to raise awareness about "lethal blinds" but says speaking out led to her receiving online abuse.
'Rock bottom'
She said: "[It] came as a bit of a shock as last year I hit rock bottom and just couldn't go on. I stupidly tried to take my own life and, if it wasn't for Chris getting me medical help when he did, I would be dead now.
"There is the minority of common sense police, who still like to 'point out the obvious' despite the fact you are grieving the loss of your child," she wrote on Facebook.
"Why not just say 'haha' to my face because that is just what it feels like. I'm human, I'm a mummy and I do make mistakes."
She said some messages posted online had blamed her and her "an unfit parent" which "broke" her at first.
However, she has vowed to "ignore the trolls" and continue with the campaign and petition, which has been signed by more than 5,000 people.
Miss O'Halloran and partner Chris Parslow are expecting another baby in two months.