Paedophile Richard Fruin jailed for sex abuse in Cambodia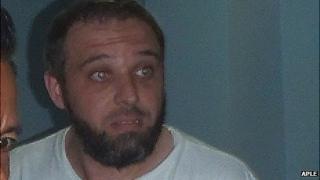 A convicted paedophile has been jailed for two years in Cambodia for sexually abusing three brothers.
Richard Fruin, 36, formerly from Gloucestershire, left the UK after serving a year-long sentence for producing images of child sex abuse.
He was arrested in October last year after his guesthouse room in Phnom Penh was raided, and he was found with a partially-dressed 8-year-old boy.
The boy's brothers, aged 10 and 11, testified that they were also abused.
Fruin was ordered to pay 10 million riels (£1,500) compensation to the victims and fine of four million riels (£600).
After serving his sentence he will be deported from Cambodia.
Yi Moden, from the children's rights organisation Action Pour Les Enfants (APLE), said he was "satisfied" with the deportation order, compensation and fine.
"I feel, however, that Richard Fruin deserves a longer imprisonment," he said.
"With this sentencing, we can be sure that this man will not hurt any child in Cambodia any more."
Fruin was convicted at Gloucester Crown Court in October 2012 of 15 counts of possessing indecent images of children.