The Glosters veterans mark 'unique' Back Badge honour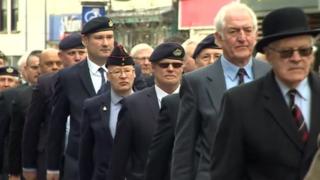 Veterans from the former Royal Gloucestershire, Berkshire and Wiltshire Regiment have marched through Gloucester to mark the "unique honour" of the Back Badge.
The regiment was awarded the honour of wearing a badge at the back of its caps after it held off attacks by Napoleon's troops at the Battle of Alexandria in 1801.
The honour prevails to this day.
The march was followed by a Back Badge service at St Mary de Lode Church.
In 2007 the Royal Gloucestershire, Berkshire and Wiltshire Regiment merged with the Devonshire and Dorset Regiment to become 1 Rifles.
The regular battalions of the Rifles wear the Back Badge with ceremonial dress and officers and warrant officers wear it on side hats.
Major Tristram Carter, the Gloucestershire secretary for The Rifles, said affection for the regiment was "very strong" in the county.
"The glorious Gloucester's have amassed a wealth of battle honours for what they did, for example when they won the Back Badge, and more recently in the Korean War, at the Battle of Imjin and the stand they made there," Major Carter added.
"They have honours that are unique amongst the regiments."