Huskyfest organiser says dogs' welfare at 'breaking point'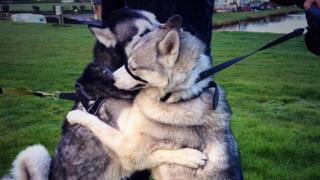 The organiser of a Gloucestershire festival dedicated to huskies says she hopes it will change people's attitudes towards the dogs.
Vickie Pullin, from Huskyfest, said the welfare situation is at "breaking point", with many huskies ending up maltreated or abandoned.
The festival, at Croft Farm in Bredon's Hardwick, near Tewkesbury, aims to teach owners how to manage their dogs.
Sled dogs can run up to 60 miles (96km) a day and need specialist exercise.
Ms Pullin said: "I get phone calls every week asking 'can you rehome or help me out with my dog?'
"When they get to 12-18 months and people say 'I went with my heart, I should have gone with my head', it is soul destroying."
Ms Pullin, who owns 15 huskies, said one of the main aims of the festival was to get across the message that huskies are not your average pet - they are work dogs.
"Huskyfest is our way of trying to help owners manage these wonderful dogs," she said.
"You can then get a happy dog and a happy owner."