Cygnet left 'home alone' on way to Russia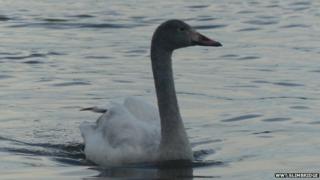 A baby swan left behind by its migrating parents at a wetland centre in Gloucestershire is now being guided back to Russia by its adopted family.
Julia Newth at the Wildfowl and Wetlands Trust in Slimbridge noticed, in February, that a remaining family had acquired an extra cygnet.
She said the bird's chances of getting to Russia were now "much greater".
The swans overwinter in Europe and the UK before returning in spring to the Russian Arctic.
The cygnet, named Annie, attached itself to Bewick swans Wooton and Stinchcombe and their four cygnets after apparently being abandoned by her own parents last month.
'Sun and stars'
Research officer Ms Newth said: "Cygnets usually remain with their parents for at least some of the return journey back to the Arctic.
"Although Annie will have learnt the migration to Slimbridge by following her parents, the return journey will be less familiar.
"Her chances of finding her way back with her adopted family are now much greater."
Ms Newth said there was still much to learn about how swans find their way on migration and said it was "likely" they used a "combination of navigational mechanisms" such as the angle of the sun and the stars.
She added: "Landmarks are thought to be important for mapping out routes - often following coastlines, rivers and even man-made features such as motorways."
Ms Newth has learnt to recognise the hundreds of swans in the flock by their individual facial markings.
She hopes to keep track of Annie's progress by keeping in touch with "an extensive network of swan researchers along the 2,500 mile journey to Russia".