Cotswold Airport fire chief inquest: 'Dangerous cylinders moved'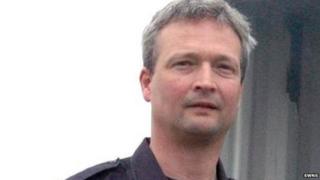 Cotswold Airport's fire services manager died after handling high pressure cylinders which were known to be dangerous, a court has heard.
Steven Mills, 45, of Malmesbury, Wiltshire, was killed when one of the canisters exploded on 8 April 2011.
Kemble Air Service Ltd denies charges of failing to make suitable and sufficient assessments of the risks to both employees and non employees.
The trial at Gloucester Crown Court continues.
The court heard Mr Mills had bought seven large containers for use in training exercises.
The cylinders were 5ft (1.5m) high, each weighed approximately 264lb (120kg) and were capable of deploying gas in two seconds as part of a fire suppressant system inside shipping containers.
When the containers arrived the airport manager Nick Howard inspected them.
The court heard both men knew the cylinders were dangerous and that they would have to get an expert in from outside to move them.
Mr Howard told the court he expected Steven Mills to hire in a professional, but instead he moved the cylinders on his own initiative and without Mr Howard's knowledge.
Mr Mills, who was also a retained fireman with Wiltshire Fire and Rescue Service, was hit by a decompressed gas cylinder as it discharged its contents. He suffered a traumatic head injury.
A safety pin which should have been attached to a valve on the cylinder was later found in his hand.