Otter family captured on camera at Slimbridge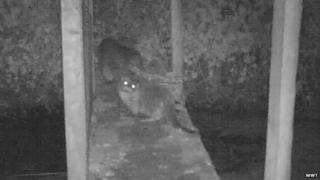 A family of wild otters has been captured on camera at the Wildfowl and Wetlands Trust at Slimbridge in Gloucestershire.
Staff said they have known the animals existed on the site for some time, but this was the first evidence the otters have been breeding on the reserve.
The footage shows a mother and two of her cubs inspecting a sluice and leaving scent markings.
It was captured at night by a camera trap used to observe wildlife.
Reserve warden James Lees said: "It is a massive pat on the back for us to have otters breeding at Slimbridge, as it means that the habitat is in really good shape, with very good water quality and a strong food chain.
"We have three camera traps out on the reserve but it is the first time we have captured a family of otters so we were very excited to see it."
Otters came close to extinction in the UK as their numbers declined from the 1950s to the 1980s but since then populations have been recovering and they are now living in every English county.