South Western Ambulance Service merger shuts Quedgeley control room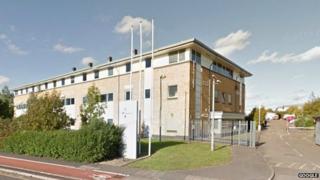 The Great Western Ambulance Service control centre near Gloucester has closed as part of the merger with South Western Ambulance Service.
The two ambulance services joined together last year to create a single foundation trust covering an area from the Cotswolds to Cornwall.
Dispatch staff from the Quedgeley control room will join a new team in Almondsbury, South Gloucestershire.
Ambulances call outs in Gloucestershire will be dealt with by the new hub.
Dispatchers allocate resources including paramedics in rapid-response cars and ambulances to incidents.
"By relocating to Acuma House, our Gloucestershire dispatchers will be located alongside clinicians at our Clinical Support Desk, meaning they will be better able to ensure the right resource is responded first time," said Ken Wenman, Chief Executive of SWASFT.
A total of 20 staff are involved in the move.
The trust said it hopes all 20 staff will move to the control room in South Gloucestershire by the end of March 2014.
The South Western Ambulance Service Foundation Trust covers about 10,000 square miles (26,000 sq km), and serves about 5.3 million people.
It employs about 4,000 staff across 100 sites.