Coroner Alan Crickmore struck off after £2m theft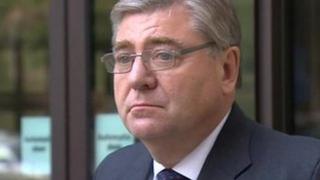 A coroner who stole £2m from clients at his solicitor practice has been struck off from his professional body.
Alan Crickmore, 57, from Cheltenham, Gloucestershire, was jailed for eight years after stealing from the accounts of clients and estates of dead people.
A Solicitors Disciplinary Tribunal has now ordered Crickmore be struck from the roll and pay £66,000 in costs.
The full details of the decision will be published in the next seven weeks, after which he has 21 days to appeal.
Crickmore, of East Approach Drive, admitted 24 counts of fraud at Southwark Crown Court in October.
Over a 13-year period he stole £1,985,097 using his practice, Alan C Crickmore Solicitors.
The court heard he diverted money into his own account while acting as probate - taking funds left for relations and friends in his clients' wills.
Crickmore used the money to pay for cruises, restaurant meals, expensive wines and champagne receptions, in a "callous and brutal breach of trust".
He also stole from other personal and office accounts to which he had access.
Crickmore was suspended from duty in 2010 when the Solicitors Regulation Authority (SRA) began an investigation into allegations of dishonesty at his law firm.
The SRA previously revealed it had paid a total of £116,645 in compensation to nine claimants who were victims of Crickmore.