Hollie Gazzard: Charity walk to remember stabbed hairdresser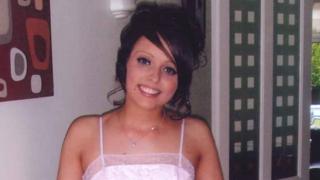 Hundreds of people have pledged to take part in a charity walk to remember hairdresser Hollie Gazzard who was fatally stabbed in a Gloucester salon.
The 20-year-old was attacked while working at Fringe Benefits in the city centre last week.
Friends and family of Miss Gazzard have organised a charity walk from Gloucester to Cheltenham in her memory.
Asher Thomas Maslin, 22, of Gloucester Road, Cheltenham, has been charged with Miss Gazzard's murder.
He is due to appear at Bristol Crown Court next week.
More than 600 people have said they will help raise money for a trust fund being set up by Miss Gazzard's family.
The Facebook group, Charity Walk To Remember The Beautiful Hollie Gazzard, has invited "any one that knew or would like to show their support for Hollie" to join in the walk on 27 April.
Her sister Chloe said: "Hollie's passion was hairdressing and the idea of the trust is to sponsor a young hairdresser in Gloucester each year."