Gloucestershire light aircraft crash leaves pilot unhurt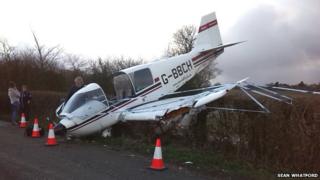 A light aircraft pilot has been forced to crash land in a field in Gloucestershire.
The pilot, who was flying the Robin DR400 aircraft solo, was unhurt during the emergency landing.
Fire crews, police and the ambulance service were called to the scene on Sandhurst Lane in Sandhurst shortly after 16:00 GMT.
Gloucestershire Police said investigations suggested the plane had suffered a mechanical fault.
Sean Whatford, who lives nearby, said it "seemed like [the aircraft] had run out of fuel or had an engine problem".
He added: "It's quite a small plane, I'm told they'll probably just take the wings off it and take it away. The main thing is that the chap's OK."
The nearest airport to Sandhurst is about four miles (6.4km) away.
Gloucestershire Airport confirmed the aircraft had taken off there and was coming back to land when the pilot reported an engine problem.
"The pilot selected a field in which to land but, during the landing, the aircraft passed through a hedge, coming to rest on a minor road," said a spokesperson.
"The AAIB [Air Accidents Investigation Branch] has been advised and a team of engineers are at the scene to recover the aircraft to the airport."