Hollie Gazzard: Knife recovered in hairdresser murder probe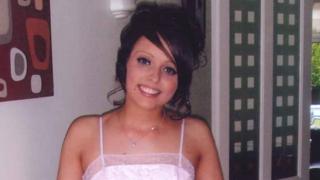 A knife has been recovered by police investigating the fatal stabbing of a hairdresser in Gloucester.
Hollie Gazzard, 20, was attacked at Fringe Benefits in Southgate Street at about 18:00 GMT on Tuesday.
There had been rumours on social media sites suggesting Miss Gazzard was stabbed with a pair of scissors, but police have denied this.
A 22-year-old ex boyfriend of Miss Gazzard was arrested on suspicion of murder in the early hours of Wednesday.
'Used during incident'
Gloucestershire Police have until 15:50 GMT on Thursday to question the suspect at Cheltenham Police Station.
A spokesman for the force said: "Yesterday officers searched a building site near to the incident scene and recovered a knife that is believed to have been used during the incident.
"Officers investigating are not looking for any other weapons."
Police said bystanders with mobile phones had filmed the efforts to save Miss Gazzard's life and appealed to those people to hand the footage to police.
"I would like to put in the press very strongly that individuals who took part in any filming do not put this on social media and do not put it on the internet," Acting Ch Insp Neil Smith said.
"I am sure anyone related to the lady who has died would not like to see this footage uploaded on to social media websites.
"It would not be a respectful thing to do, especially when the family are in mourning. This was a very, very nasty incident."
Miss Gazzard died at Gloucestershire Royal Hospital after the attack.
On Wednesday, her family said she was a "beautiful, happy and loving girl".
"Hollie was full of life and we are very proud of her. She was at the beginning of her life and to have it taken away in this manner is very hard to bear," they said in a statement.
"The only comfort we have at this time is that Hollie is now free and at peace and that no harm can ever come to her as she lives with the angels in heaven."