Hollie Gazzard: Ex-boyfriend arrested over Gloucester hairdresser death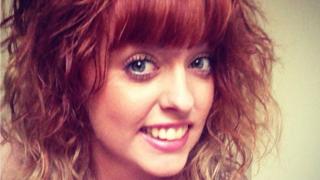 A man has been arrested on suspicion of murdering his ex-girlfriend at a hairdressers where she worked.
Hollie Gazzard, 20, was stabbed at Fringe Benefits in Southgate Street, Gloucester, at about 18:00 GMT on Tuesday.
Her family said she was a "beautiful, happy and loving girl".
A 22-year-old man was arrested in the early hours of Wednesday and is currently in custody at Cheltenham Police Station.
Miss Gazzard died at Gloucestershire Royal Hospital after the attack.
Neighbour Alec Rosam said: "I heard screaming and shouting, because I live in the flats behind.
"Then I saw four police cars and an ambulance and I knew then that there was something wrong and something going on - and [that] it was very serious for an ambulance and four police cars to be involved."
Forensics officers are examining the salon, which has been taped off.
In a statement Miss Gazzard's family said: "Hollie was full of life and we are very proud of her. She was at the beginning of her life and to have it taken away in this manner is very hard to bear.
"Everybody she came in contact with loved her, enjoyed her company, her happy nature and her sense of fun.
"The world has lost a treasure. She was so loved by all her family and friends and the brightest star in their lives has now gone out.
"The only comfort we have at this time is that Hollie is now free and at peace and that no harm can ever come to her as she lives with the angels in heaven."
Acting Ch Insp Neil Smith, of Gloucestershire Police, said: "This is an isolated incident. This is an incident whereby the victim and suspect did know each other, they were in a previous relationship and I need to assure the communities within Gloucester that it is a safe place to be."
He added that bystanders with mobile phones had filmed the efforts to save Miss Gazzard's life and appealed to those people to hand the footage to police.
"I would like to put in the press very strongly that individuals who took part in any filming do not put this on social media and do not put it on the internet," he said.
"I am sure anyone related to the lady who has died would not like to see this footage uploaded onto social media websites.
"It would not be a respectful thing to do, especially when the family are in mourning. This was a very, very nasty incident."
The force has until 14:45 GMT on Thursday to question the suspect.
Floral tributes have been left near the police cordon and friends have left messages on social networking sites.
Writing on Twitter, Stephanie Anne wrote: "RIP Hollie Gazzard such a beautiful girl!! Gonna be truly missed babe xxxxxxx."
Mike Conley wrote: "Life is precious, live every single day to the full. If you love someone tell them. Hollie Gazzard you are beautiful inside and out. RIP."
Stephanie Carter added: "RIP to a beautiful girl. You were truly an amazing person! This world is too cruel."
On Fringe Benefits' website, Miss Gazzard is described as a hair designer at the salon.
An accompanying description, apparently written by Miss Gazzard, says that she began working as a hairdresser aged 16, after being offered an apprenticeship in a Gloucester salon.
It said she was a "very passionate individual" who took "great pride" in her work.