Gloucestershire floods: Longford concerns over new homes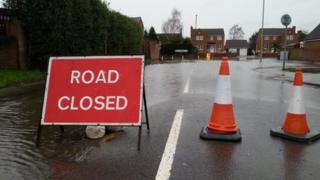 People living in a flooded village in Gloucestershire have raised concerns about plans to build 570 new houses on a nearby waterlogged field.
Residents in Longford, near the River Severn, raised the issue with Prime Minister David Cameron during his visit to the area on Monday.
Longford has flooded frequently in the past decade and villagers say they feel "helpless and cynical" about the plans.
Tewkesbury Borough Council said the field was a low risk for flooding.
The village has been subjected to a flood alert and a flood warning over the past few weeks.
Mr Cameron visited Longford, and other villages in the area, to meet those affected by the recent flooding.
He said: "We have a planning system where the authorities have to make the decisions.
"And what we've seen at the moment is the lowest level of building on flood plains that we've had for many years.
"People should be clear, the national planning policy framework does not support building where there is a high likelihood of flooding."
'Largest flood plain'
Dave Witts, from the Severn and Avon Valley Combined Flood Group, said the problem was the "same with the previous government as well as this government".
He said: "They shouldn't be built anywhere near a flood plain. The system is a risk-based approach. Who takes the risk? We do.
"You cannot have a standard policy for building throughout the whole country. We are the largest flood plain in the country so therefore the rules here should be different to somewhere else that doesn't flood."
Tewkesbury Borough Council said planning permission to build the 570 houses was "originally granted on appeal in 2008".
A council spokeswoman said: "The Secretary of State agreed with the evidence which showed that the proposed housing was within Flood Zone 1, which is the area of least risk of flooding.
"On that basis, the proposals complied with national and local planning policies in force at the time."
"The evidence has been reviewed since that time and the site of the proposed housing is still shown to be within the area at least risk of flooding."
She said the planning permission had been "subject to conditions" which "required sustainable drainage systems" were included to "limit the run-off water" and not "increase flood risk elsewhere".