Farming students use Twitter to collect flood aid for Somerset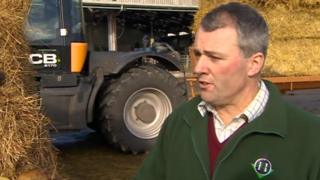 Farming students have rallied to a call made on social media by one of their graduates to get aid to farmers affected by flooding in Somerset.
The Royal Agricultural University students are supporting the #forageaid and #clubhectare campaigns to send essential supplies to the Levels.
They have been collecting and delivering straw, silage, animal feed, waterproofs, wellingtons and fuel.
Campaign founder Andrew Ward said "tremendous offerings" had come in.
#forageaid was initiated by Mr Ward in March 2013 to help the farmers badly affected by heavy snowfalls.
When the flooding occurred in Somerset he said it was "natural to resurrect the #forageaid initiative" to help the farmers there.
'Future pledges'
Jonathan Dixon who founded the #clubhectare campaign said the response had been "overwhelming".
"We wanted to help supply Somerset farmers with forage that would at least help them feed their stock," said Mr Dixon.
"We've been using #forageaid to appeal for aid, and the feed and bedding has been pouring in.
"The response has been so overwhelming, that we've actually had to suspend deliveries for the next seven days.
"The situation in Somerset is devastating, but the attitude and determination of the farmers is unbelievable."
National Farmers' Union regional director Melanie Squires described the response as "magnificent" and offered "huge thanks" for the support.
But she added: "What we now need are the pledges of fodder or straw, rather than the actual deliveries, so that we can call upon people's generosity as and when it is required over the coming weeks and months, when the waters finally abate and farmers return to face a fetid swamp."
Chris Brough, a lecturer at the university in Cirencester, said "strategically intelligent use of social media" had enabled the students to mobilise a network of families and friends.
"Their actions are borne out of an inherent responsibility to the industry and farming communities to provide not just empathy but direct physical actions and support," said Mr Brough.
Agricultural Management student Tom Warren has been involved in the national #forageaid flooding appeal since it began.
He said: "Some farmers feel ashamed to ask for help - they keep apologising for asking for supplies.
"We've tried to assure them as best we can that we're all in it together and the agricultural community will try its hardest to help support them with what they need.
"I'd encourage anyone that wants to donate to consider future pledges, offering donations of straw, bedding, and silage that can be taken up in the future."