Gloucester flooding threat 'over for the time being'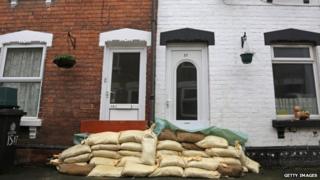 The threat of flooding at Alney Island in Gloucester has receded, the Environment Agency has said.
A severe flood warning for the River Severn in the area has now been downgraded to a lesser flood warning.
A spokesman said the danger of water rising above flood defences had gone "for the time being".
The military helped to put out sandbags in the area on Friday when residents were worried their homes could be flooded over the weekend.
Roy Stokes from the agency said: "The danger of the defences overtopping has gone for the time being, but the water is still very high, still only about six inches from the top of the flood defence, so it does still look pretty scary and spectacular."
Mr Stokes said the flood warning for Alney Island was likely to stay in place "for the next few days at least".
"Through Gloucester [the water level] is fairly stable, it seems to have peaked now, and will stay like that probably until Thursday.
"But there is a bit more water coming down the system. There was quite a bit of rain at the top end of the River Severn on Saturday and that will slowly make its way down.
"Hopefully, by the time it gets to Gloucester we might have lost a little bit out of that bottom end so it shouldn't have a massive impact."