Gloucestershire floods: 'Flood threat at Alney Island remains'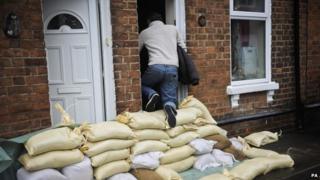 Water levels on the River Severn in Gloucester have stabilised but the threat of flooding remains, the Environment Agency has said.
Flood defences protecting Alney Island have done their job overnight but high tides over the next 48 hours could still cause problems, a spokesman said.
The military has helped communities in the city and in Tewkesbury by filling and putting out thousands of sandbags.
Several roads have been closed in the county because of fallen trees.
Roy Stokes from the agency said: "It was touch and go again because the winds were so strong, you could hardly stand up in Alney Terrace last night.
"But we're not quite out of the woods yet, unfortunately. The river is still really high - 4in or 100mm from the top of the flood wall - and there's another couple of tides due today and tomorrow.
"We're going to keep the severe flood warning in place. The water is so close to the top of the wall and it will stay like that for at least the next 48 hours.
"The good news is that it looks like it's gone down just a smidge overnight. But with the tidal influences we can't relax just yet."
Mr Stokes said water levels in Tewkesbury could also still rise.
"We've had quite a bit of rain in the top end of the River Severn yesterday and overnight, so that water will be making its way down to Tewkesbury over the next couple of days, so it's likely to stay really high for the next few days."
The A419 at Cowcombe Hill near Stroud has been closed because of fallen power cables.
A Gloucestershire Police spokesman said it would remain shut until at least 20:00 GMT, while engineers carried out repairs.
Elsewhere in the county several roads, including the A38 in Longford, the A417 at Maisemore and the A44 in Bourton-on-the-Hill, have been closed due to fallen trees and flooding.