Rodin's Kiss returns to Cheltenham after 80 years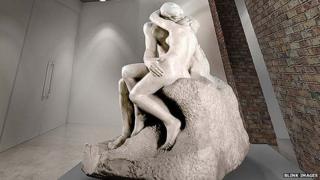 Auguste Rodin's The Kiss is to go on show at the Cheltenham Art Gallery and Museum for the first time in 78 years.
The life-sized marble statue had its first showing at the gallery in 1933, 17-years after its removal from public view due to its "pagan sexuality".
Jane Lillistone, from the museum, said: "At the time it was very shocking but when it came here, people liked it."
The sculpture will be on display at the gallery until 10 August to mark the centenary of Rodin's visit to the town.
The 1.8m (6ft) tall statue depicts the adulterous lovers Paolo Malatesta and Francesca da Rimini from Dante's Inferno, locked in a heated embrace.
In the story, the lovers, whose passion grew as they read the story of Lancelot and Guinevere together, were killed by Francesca's outraged husband.
'Inflame the passions'
Now worth £10m, The Kiss was commissioned for £1,000 by the art lover Edward Warren in 1900.
"They actually put it on display in Lewes in Sussex between 1914 and 1917," said Sophie Wilson, Cheltenham Art Gallery and Museum's exhibitions team leader.
"But the local people complained that it would inflame the passions of young soldiers, so it was taken off display."
It was returned to Mr Warren's home where it was stored in a stable block for almost 15 years.
When he died, the statue was offered to any provincial gallery that could pay for its transport and insurance.
'Magnificent specimen'
The Cheltenham gallery took up the offer and showed it for six years until 1936, when it was bought by the Tate Gallery.
"When it came here people appreciated it, liked it and there was no adverse criticism," said Ms Lillistone.
"Actually there were very positive comments describing it as a 'magnificent specimen of the art of the sculptor'."
The return of the 3,180kg (7,010lb) sculpture to the gallery marks the centenary of Rodin's visit to Cheltenham.
The 70-year-old French sculptor visited the town in 1914 and during his two-month stay made several trips to the gallery where he signed his name in the visitors book.