Gloucestershire floods: Flood defences 'did their job'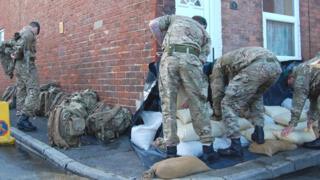 Flood defences protecting Alney Island in Gloucester are presently working, the Environment Agency has said.
It had been feared flood defences could be breached by the high tide on the River Severn at 10:00 GMT.
An agency spokesman said the time had passed when the "tidal influence could push water over the top".
However residents still need to "remain vigilant" with more rain predicted, the spokesman added.
'Tidal surge'
Chris Bainger, from the agency, said they were "feeling very confident" about the flood defences at Alney Island.
"We've gone past the phase when the tidal influence could push the water over the top," he said.
"We've got some horrendous weather coming in so we need to remain vigilant.
"It's got about 10cm to go before it goes over the top."
Mr Bainger said there was still a risk of flooding due to another tidal surge, expected at about 22:00 GMT.
In Tewkesbury, several roads have been reopened after being closed earlier because of flooding, although some roads elsewhere in the county remain shut.
Resident Adam Richardson said he had taken the day off work because he was worried about the flood levels.
He said: "Our house flooded in 2007 and we're worried that it may come up again.
"We just wanted to be at home to make sure the kids will be all right, and our vehicles and possessions will be all right.
"I think we should think about moving up to higher ground because it's every year that it's getting a bit concerning."
Another resident, Lorna Scott said: "It's normal to see this amount of flooding, but having been flooded in 2007 you do have the constant worry every year.
"It [the water] is going to be here for a few months I imagine, by the time the water tables have lowered, so any amount of rain is just going to bring it back again."
A severe flood warning remains in place on the River Severn in part of Gloucester.
There are 10 further flood warnings on the River Severn from Gloucester to Tewkesbury.
'Rising river levels'
At Imjin Barracks in Gloucester 160 troops from Wiltshire have helped to fill 20,000 sandbags with 250 tonnes of sand.
A Gloucestershire County Council spokesman said the soldiers were helping to distribute the sandbags in Tewkesbury to protect the community from rising river levels.
County council leader Mark Hawthorne said: "We continue to work together to support communities in flood affected areas.
"Our teams are out all over the county responding to any emergency calls we get and clearing away free standing water where necessary.
"We welcome the extra back up we're receiving from the military."
Heavy rain has been forecast for later on Friday and over the weekend.
Six schools in the Tewkesbury area were closed on Friday because of the weather.