Stroud FM community radio station off air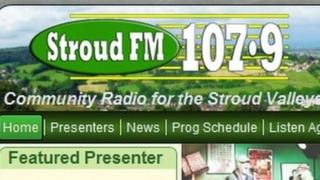 Community radio station Stroud FM has stopped broadcasting due to a lack of funds.
The last show finished at midnight on Wednesday.
The station has been run by volunteers for the last 10 years, but following financial concerns the newly-elected board made the decision to close.
Marian Millar, who presented Lady Plays the Blues, said Tuesday's announcement had "devastated" those involved working at the station.
"We are all terrifically upset, because some of us have put so much of our lives into Stroud FM," she said.
"Most people have heard of Stroud FM... the local people are out there listening, it's just so very sad, that after nearly 10 years, Stroud FM is going to have to go off the air."
'No longer viable'
Ms Millar said there had been "serious discussions" with the directors and creditors for a couple of weeks, but the "axe finally fell" at a presenters meeting on Tuesday.
The station has been broadcasting full time on 107.9 FM since March 2008, but produced live radio covering the Stroud Fringe Festival many years before.
It has helped give unemployed people skills to help improve their opportunities of getting jobs and schools and youth organisations have had training with the station including recovering addicts.
A spokesman said the station received financial support from Stroud Town Council, local celebrities and local people, and although those involved volunteer their time freely - with presenters and technicians paying a monthly membership fee - all radio stations cost a substantial amount of money to run.
"We have looked at every way we can to continue, but with a projected shortfall of almost £8,000 the station is simply no longer viable as it stands," he added.