Gloucestershire flood: Troops arrive after severe warning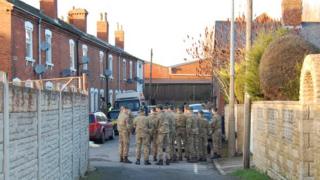 Troops have arrived in Gloucester to help fight flooding as a severe flood warning is issued for part of the city.
Up to 100 soldiers from Wiltshire are at Alney Island where the highest Environment Agency warning - meaning danger to life - has been put in place.
The agency said flood defences may be breached leading to the flooding of houses and static homes.
Experts believe water levels on the River Severn will rise by 10-15cm (4-6in) before peaking on Friday morning.
Thousands of sandbags have been delivered to the area and are being put in place by the 3rd (UK) Division troops - under the command of 43 (Wessex) Brigade.
The soldiers will also help clear roads of broken branches and debris created by strong winds, according to Gloucestershire County Council.
Heavy rain has been forecast for Friday and over the weekend.
In Tewkesbury, where some homes have been affected by flooding, Gloucestershire Police said motorists should stay away unless their journey is essential.
Two schools - Tewkesbury School and Tirlebrook Primary School - have announced they will close on Friday because of the weather.